"
Hi! I'm Gabi Diamond, I'm here for the interview for the private chef position. Hopefully you can see me right away, because I only have enough money to park for 12 minutes.
"
Pilot
Season 1, Episode 1

First Aired
June 25, 2014
Viewers (millions)
1.09[1]
Production Code
1001
Writer(s)
David Holden
Director
Andy Cadiff
Episode Guide
previous
""
next
"Young & Ringless"
"Pilot" is the first episode in season 1 of Young & Hungry. It aired on ABC Family on June 25, 2014. The Young & Hungry series promo aired on ABC Family during the spring finale of Pretty Little Liars. This marks the season 1 premiere of Young & Hungry.
Plot
A food blogger lands an interview to become a tech millionaire's personal chef; Gabi plans a romantic dinner for Josh, but events take an unexpected turn.
Episode Summary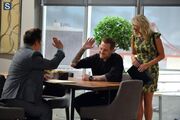 Gabi rings the doorbell of Josh's appartment and when Yolanda answers, Gabi introduces herself and tells her that she is her for an interview with Josh for the private chef position. She is in a big hurry, because she could only park her car for 12 more minutes, and she desperately needs this job. Yolanda tells her that she can't use front entrance but needs to use service entrance. When Gabi knocks on other door it still not the service entrance, and Gabi has to run to the next door, to finally go in the apartment.
When Gabi enters the house she is impressed by how big it is. Then she sees Elliot who is interviewing another chef for the job. When Elliot says the chef's name (Michael Voltaggio) Gabi comes over to them and 
starts to admire Michael, who then tells her that he's here for the private chef position. Gabi becomes nervous, because she knows how good he is. Once Michael leaves, Gabi tries to convince Elliot that she is better then Chef Michael. Because Gabi is that desparete for the job, she admits that she has a lot of debt so she will able to work for Josh 24/7. When Elliot tries to get rid of her, Gabi starts to kiss up to him and tells him how he is great at his work, but it doesn't convince him. After Josh comes home, he shows the ring he bought to propose to his girlfriend Caroline to Elliot and Gabi says that it is gorgeous. Josh then notices Gabi and asks who she is, which she answers as hopefully his new chef. When Josh says that he is starving, Gabi makes grilled cheese for him. Josh loves it and he hires Gabi, but Elliot insists that she needs to make a perfect trial dinner for his Caroline and Josh.
Gabi then goes home to her apartment that she shares with her friend Sofia. She tells Sofia that she got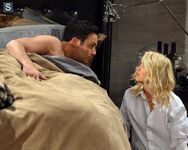 the job and they happily jump around. Then Gabi shows her a black credit card that Josh gave to her. Later at Josh's apartment, Gabi is already preparing a dinner for Josh and his girlfriend Caroline. When Elliot comes back Gabi shows him what she has done: set the table and prepare great food. Then Josh enters the room and Gabi shows him what kind of music she prepared for him to propose to Caroline. Josh and Gabi are both seen singing along to the music realizing they have the same taste in music. When Josh goes outside Gabi calls Sofia to tell her that everything is going great. However, it is then revealed that Caroline, Josh's girlfriend, has just broken up with him. This makes Josh very sad so Gabi tries to make him feel better by showing him that they can still eat the dinner she made. They eat the dinner and dessert on the balcony and after having a few drinks, they end up getting drunk. The next morning, Gabi wakes up in Josh's bed and they realize that they had slept together. Before Gabi can leave, Josh's mother appears making Gabi have to hide in Josh's closet until Yolanda finds her there hours later.
Later that day, Gabi had gone home but then needed to go back to Josh's apartment because she forgot her cooking knives. However when she arrives, Caroline and Josh are talking so Gabi hides behind the counter. Caroline apologizes and tells Josh that she wants to get back together with him. They both admit that they slept with other people. Josh finally proposes to Caroline which she accepts. When their conversation is over, Gabi tries to crawl away but Josh sees her and apologizes for what happened the night before. He gives Gabi the chef position which makes her happy and she thanks him. 
In the last scene, Caroline and Josh are seen in bed and Gabi comes in to announce that she made them breakfast in bed. She puts the food on the table and while leaving the room she notices one of her shoes that she had left in the room after sleeping with Josh. She says "my shoe" but then Josh says "gesundheit" to her to make it seem like she sneezed because Caroline would be suspicious if she knew Gabi's shoes were in Josh's room.
Cast
Main cast
Guest cast
Dishes
Mashed potatoes with cream and butter
Grilled cheese
Cornish game head with gorgonzola, carmelized pears and truffle mashed potatoes
Pancakes with strawberries and blueberries
Locations
Production
Filming for this episode began on April 21, 2014.[2]
Table read was on April 20, 2014.[3]
The pre table read was on April 13, 2014.[4]
Trivia
Michael Voltaggio guest stars as himself. He also appears in Young & Amnesia, when Josh and Gabi's first meeting is referenced.
It's revealed that Elliot Park is gay.
Josh's favourite food is mashed potatoes.
Caroline is revealed to know french.
This episode is referenced in the season 5 episode, Young & Amnesia, when Gabi wants to recreate her first meeting with Josh after he gets amnesia. There are also flashbacks in that episode of the scene in this episode, where Gabi and Josh are singing along to Closer.
This is the only episode of the series that doesn't have "Young &" in the title.
Music featured
"Closer" by Tegan and Sarah
Transcript
| | |
| --- | --- |
| | To view the Pilot transcript, click here. |
Quotes
Elliot: Grilled cheese?
Josh: This looks fantastic! Mmmm... You're hired.
Elliot: What?! At least have her make a trial dinner.
Gabi: That's fine, I'm not afraid of a trial. Because I'm innocent and my food will be proven delish.
Josh: I'm proposing to my girlfriend on Friday, can you make a dinner that will make her say yes?
Gabi: I'm gonna do more than that, I'm gonna make her say yes, yes, yess!
Elliot: So we're just finishing our pier, so shh.
Gabi: Oh, ok I'll just be over here, won't say a word.
Elliot: Now Mr. Volttagio...
Gabi: Ahhh, oh my God! Chef Michael Voltaggio, I'm such a huge fan. You know he won Top Chef right?
Elliot: Personally, I think he can win America's Next Top Model Chef.
Chef Michael: I would audition for that show.
Elliot: Bring home the trophy.
Gabi: Oh, what are you doing here?
Chef Michael: Interviewing for the chef job.
Gabi: Wow, ooh.
Elliot: Thanks for coming Michael. You'll be hearing from us very soon... possibly on your way to the car. So as you can see the position is field, so bye bye.
Gabi: Wait, wait, okay, so I didn't win any Top Chef and I don't have any awards, eh I don't even have a boyfriend but you know what I do have? Lots and lots of debt. Which means that I would be able to cook for your boss 24/7. By the way I'm Gabi.
Elliot: Yess you are!
Gabi: Hi! I'm Gabi Diamond, I'm here for the interview for the private chef position. Hopefully you can see me right away, because I only have enough money to park for 12 minutes.
Yolanda: Then you need to hustle honey, cause you can't use the front door, you need to use service entrance.
Gabi: Where's that?... Please tell me that this is the service entrance.
Yolanda: It's right down the hall next to the trash shoot.
Gabi: Okay
Yolanda: As long as you're going that way.
Gabi: Is this it? Because I'm down to eleven minutes.
Yolanda: You've found it.
Josh: Elliot who's this?
Gabi: Hopfuly your new chef, if I'm lucky.
Gabi: We both dropped out of college, we're both entrepreneurs, except you're a fortune 500, but to me 500 is a fortune. Haha it's a play on words... I'm drunk.
Gabi: I've got this job in the bag, dooda dooda.
Elliot: You're gonna get replaced really soon all the dooda day.
Josh: Nothing's gonna make me feel better.
Gabi: Not even mashed potatoes?
Josh: Mashed Potatoes?
Gabi: With lots of cream and butter.
Josh: I like cream and butter... Oh my God it's so good.
Gabi: Oh, wow this place is amazing, look at the Golden Gate Bridge. You're so close that you can make eye contact with people stuck in traffic... You're almost home.
Sofia:
Ahh six bags of groceries you've either got the job or you finally clean up your car.
Gabi: No I got it, in it almost the kind of way, I just have to make a trial dinner. And if that goes well U get the job.

Sofia:
And if that goes well I get promoted!
Promo & Sneak Peeks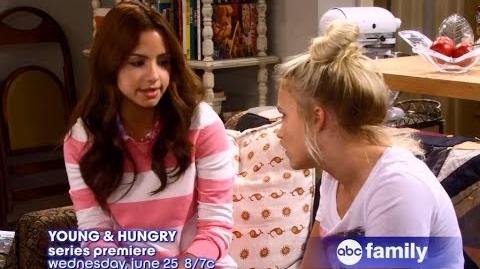 Gallery
Poll
References